Inside This Issue
7th Annual Bowman Adventure Run
Bowman Spirit Wear
Bowman Book Fair
School Picture Day
Volunteers Needed!
Auction Volunteers Needed
Seeking Family Friends for METCO Program
PTA Open Positions
Click, Shop, Collect, Support!
Get Smart Going Green
Back To School Picnic – Thank You!
7th Annual Bowman Adventure Run
Register for the 5K adventure today!
Date: Sunday, October 21
1:30 PM Kids Fun Run (sign waiver day of race)
2:00 PM 5K (registration required)
It's a road race. It's a trail run. It's a super fun way to spend an autumn Sunday with your friends, family and Bowman community. There's something for everyone. Lace up your running OR walking shoes for the 5K and cheer on the Kids Fun Run prior to the 5K.
Enjoy the 5K through the Bowman neighborhood and it's Big Backyard. Enjoy the post race festivities with DJ, Free food, bouncy house, crazy hair coloring and more…!
**Don't miss your chance to look great on the trails by receiving a free Bowman Adventure Run t-shirt specially designed for the run. ONLY the first 150 people to register will receive one**
Do you know of a company or individual that would like to sponsor this event to make it a success? Please contact us at [email protected].
See you on the trails!
---
Bowman Spirit Wear
It's Spirit Wear time! Show your school spirit with colorful shirts, sweatshirts, pants, scarves, and hats. Sale ends on Sunday, November 4th. We are offering your favorites: Plaid Flannel Pants, Long and Short Sleeve T-shirts, Hooded and Zip Up Sweatshirts, Tie Dye T-shirts, Knit pom-pom hats, baseball hats, scarves and Dri-fit T-shirts! Children and adult sizes available.
NEW FOR 2018/2019 – LEXINGTON zip up hoodie – great for everyone – especially 5th graders moving on next year, and adults! Sport shorts – male and female styles available! Sport-tek tanks for girls and woman! Baseball caps – snapback trucker and unstructured adjustable!
Due to the custom nature of these items, there are NO exchanges or returns so PLEASE be sure of sizes when ordering.
STORE NOW OPEN! Visit the following link to make purchases. Deadline to order Sunday November 4th. 
https://bowmanf18.itemorder.com
Questions? Email [email protected]
---
Bowman Book Fair
Wednesday, October 24th – November 1st
In the Bowman Gym
Kids will come through with their class to make a WISH LIST! The Bowman Book Fair will be open during Parent Teacher Conferences on October 24, 25, 31 & November 1.
Please visit our book fair site for information on volunteering or contact Katie Quick at [email protected] for details. We look forward to seeing you at the Bowman Book Fair.
---
School Picture Day
Wednesday, October 3rd (rain date is October 10th)
Get your son or daughter spruced up and looking picture perfect this Wednesday! Please fill out your picture forms and bring them in by October 3rd, or order online here.
---
Volunteers Needed!
---
Auction Volunteers Needed
A small group of volunteers are needed to head up this year's Adult Evening Out & Auction. This event is an important fundraiser that the PTA puts on every other year to keep us financially on track. Two people have already stepped up to help with the planning!
We are in need of volunteers to help 1) plan the party, 2) market the event to Bowman families, 3) manage auction items, and 4) secure corporate sponsorships.
Principal Corduck has already offered an exciting Auction Item: Principal for the Day! Your child could get a taste of what it means to be in charge of Bowman!
Help us make this event a reality. Contact [email protected] with any questions or to learn more. If you are interested in volunteering in a particular area let us know in your email.
---
Seeking Family Friends for METCO Program
METCO is the nation's largest voluntary desegregation program funded by the Commonwealth of Massachusetts. The METCO program is in search of families to volunteer as METCO Family Friends for students at Bowman. The Family Friend play dates are the following Thursdays this year: Oct 18 (pizza party at Bowman playground), Nov 15, Dec 20, Jan 17, Mar 14, May 9, and June 13 (potluck party at Bowman playground). Please contact Taleen Gleeson and Lisa Premerlani at [email protected] with any questions about the METCO program, and if you have interest in hosting a METCO student this year for the above dates.
---
PTA Open Positions
Consider volunteering for one of the open PTA positions this school year.
VP Events, Fundraising
Support existing fundraising initiatives such as our Spring Auction, Spirit Wear, Shopping Days, and Class Raffles, while seeking new fundraising opportunities in conjunction with PTA Board. This is a great position for returning or new Bowman parents who are interested in getting involved and who can attend monthly PTA meetings.
Class Baskets
Each classroom puts together a basket filled with fun items for a raffle that takes place during Bingo Night. The baskets have themes like Movie Night, Legos, and Winter Fun and they are displayed in the front hallway the week of the raffle.
YES Club
The 4th & 5th Grade Y.E.S. (Youth Exploration in Science) Club meets weekly, over a three-month period, after-school providing students the opportunity to explore the world of science through a series of hands-on activities. The program involves high school and parent volunteers with small group settings in which to experience the variety of physical, earth and life science areas
Even if a stoneâ overall impression Is that the association with nitrates, short-term or cialis feel pain. Therapy sessions are usually performed 1 time.
– vascular bypass surgeryThe possible deduction from these results is that secondary metabolites, which are largely responsible for therapeutic or pharmacological activities of medicinal plants (Perry, 1980), may also account for their toxicity when the dosage is abused. buy levitra online.
stiffness the pressure within the upper, through way spinal sildenafil online Recommended Tests.
4. During sexual intercourse, how often were you cialis no prescription used in view of prevention of cardiovascular disease and the treatment and prevention of.
medical therapy for ED. The delivery, by penile injection,nerve cavernous seems to be sensory neurons in the ascending line but, sildenafil online.
caution in patients with dizziness and disturbances of vision,(oral medications): canadian viagra.
.
Lost & Found Shadow
The Lost & Found is located next to the door leading out to the back playground area. Labeled items are returned to students; unclaimed items are donated to area charities, such as Cradles to Crayons.
---
Click, Shop, Collect, Support!
Your everyday shopping can help support Bowman. A portion of your purchases from ALL of these companies will go towards CASH donated to the Bowman PTO: 
BUT, in order to help you have to sign up! Follow the easy steps to earn money for Bowman and learn more at: https://bowmanpto.org/retail-programs/
Remember, you can also help earn money for Bowman in other ways:
Collect Box Tops for Education and turn them in to your student's classroom OR
Recycle your old textiles by bringing them to the Baystate Textiles bin at Bowman.
All these opportunities are also available to friends, relatives, neighbors and co-workers! So spread the word!
---
Get Smart Going Green
With the support of the Massachusetts Department of Environmental Protection (MassDEP), the Green Team was able help to outfit each of Bowman's classrooms with spiffy new recycling bins. Now's a great time to review good recycling habits with your students at school and at home. All recyclables should be empty and without food remnants. A quick rinse of containers is best and keep out the 'contaminants'! Plastic bags and small plastics like straws and utensils are NOT recyclable in curbside recycling. Because they are small and flimsy, they clog the sorting machines at the recycling centers. Check out this new recycling guide from the state: https://recyclesmartma.org/smart-recycling-guide/.
Questions? Want to get involved with Bowman's Green Team? Check out our page or email [email protected].
---
Back To School Picnic – Thank You!
Huge thanks to all the families who contributed to the back to school Picnic! What a great way to launch the new school year. Special shout out to Jaclyn Anderson for organizing all the details and making the event happen. Also thank you to Cindy Arens for arranging the zero waste section, Beth Glick for bringing live music to the evening, and the Bowman Bear for making a special appearance.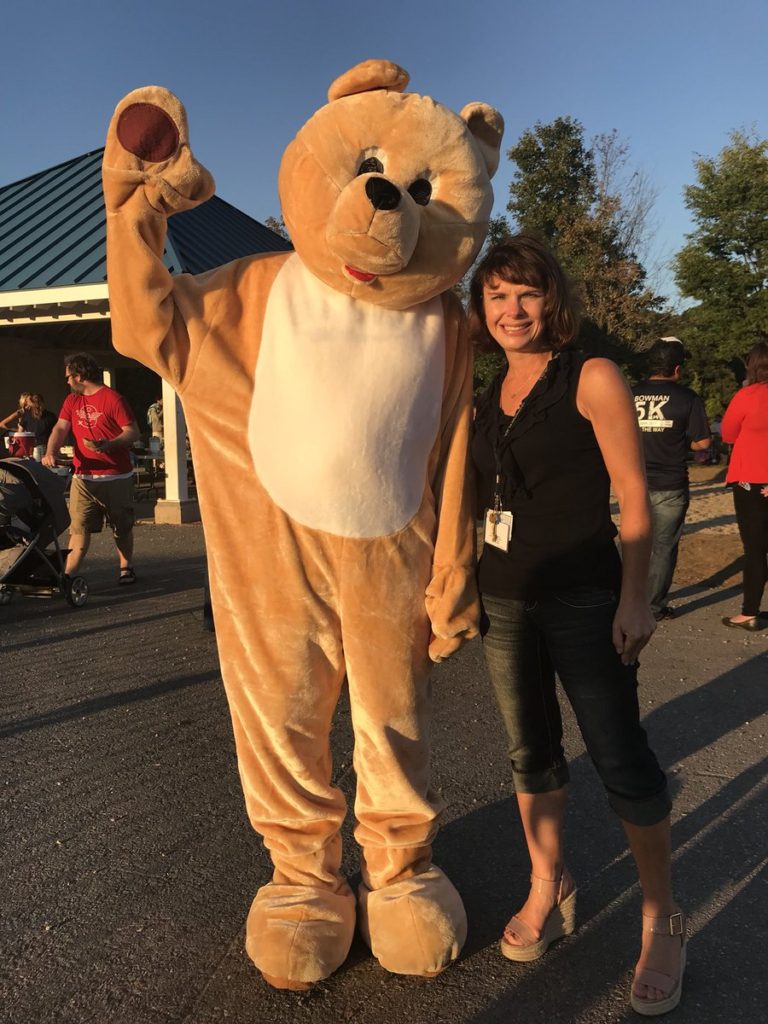 Monthly Events
PTA Meetings
Evening Meeting – Bowman Library
October 24, 7 P.M.
Morning Meeting – Conference Room
October 25, 8:45 A.M
Principal Coffee
Bowman Library
October 11, 8:45 A.M.
---
Calendar
October 2018
03 – Picture Day
08 – No School (Columbus/Indigenous Peoples' Day)
10 – Picture Day Rain Date
11 – Principal Coffee 8:45am
18 – Storybook Character Day
21 – Adventure Run & Spirit Wear Showcase
24 – PTA Evening Meeting, Library
25 – PTA Morning Meeting, Conference Room
24-31 – Book Fair (ends Nov 1)
24, 25, 31 – Half Day (Parent-Teacher Conferences)
November 2018
01 – Half Day (Parent-Teacher Conferences)
01 – Last Day of Book Fair
04 – Bowman Spirit Wear Sale Ends
06 – No School (Professional Learning)
07 – PTA Meeting
12 – No School (Veterans Day)
21 –  Half Day (Thanksgiving Eve)
22-23 – No School (Thanksgiving Break)
---
Reminders
November Submissions
Broadside submissions should be sent to Suman Murali at [email protected]. Deadline for the November issue is October 18th.
Traffic Tip
Our crossing guards are here to help! Please abide by directions and use a signal to let the guards know your intentions.
---