Bowman Spirit Wear- Fall Sale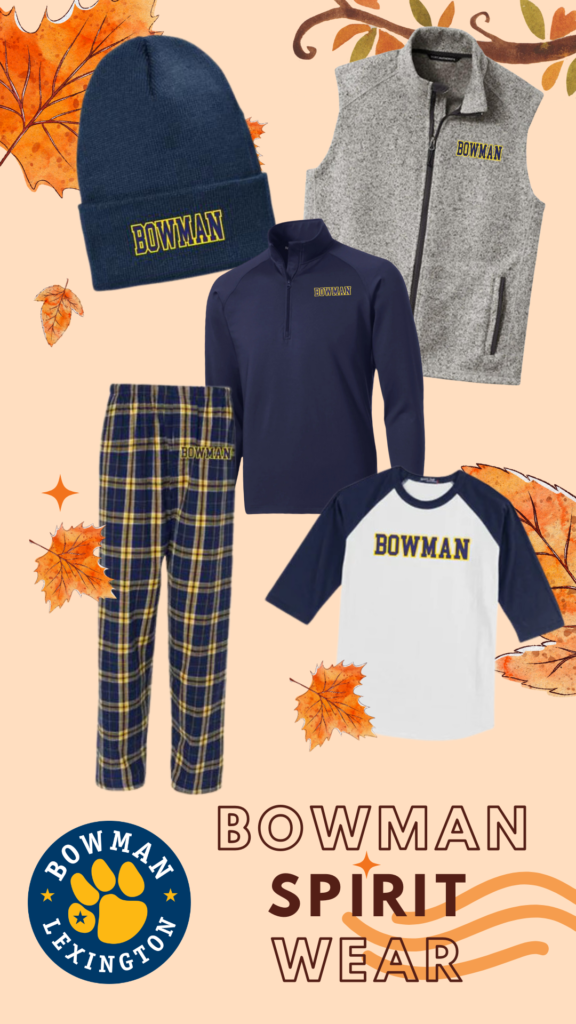 ORDER BY SATURDAY, SEPTEMBER 30!
We are excited to kickoff a Spirit Wear Sale, through Pierce Apparel, early this school year! Show your school spirit with Bowman shirts, hats, jackets, pants, PJs and hoodies!
Don't miss out on our great new spirit wear offerings!
ORDER NOW on our online store NOW through September 30, 11:59pm. Purchased items will be delivered 2 weeks after the store's closing date. Delivery will be to the school for distribution.
Questions? Email [email protected]
---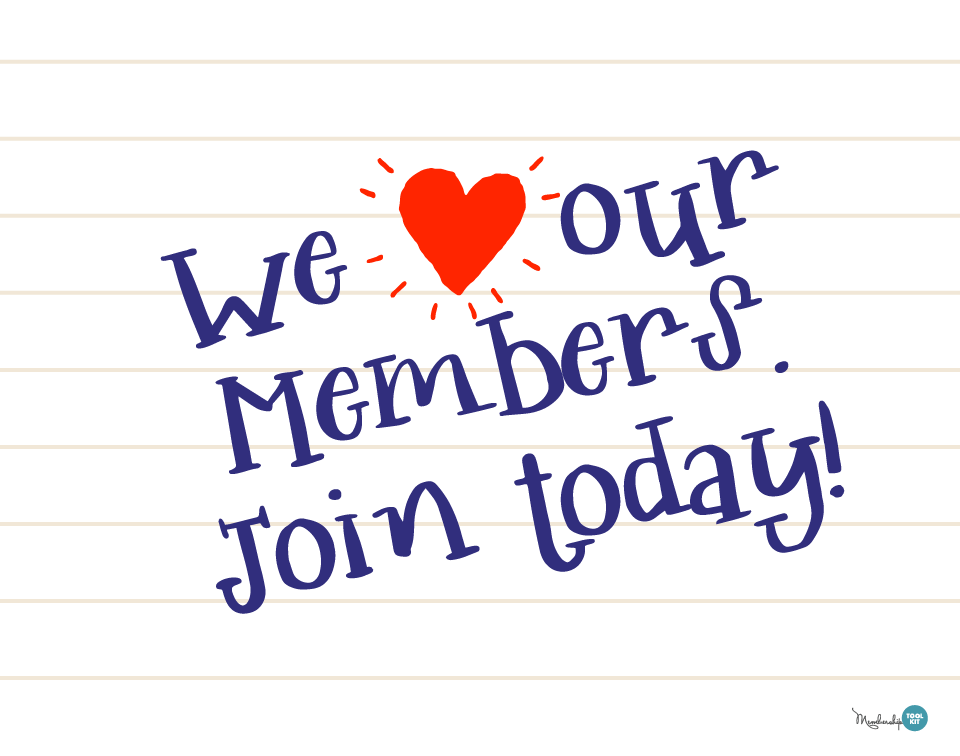 Bowman PTO raises and spends approximately $150 per child at Bowman, so please give as generously as you can. Please join or renew your membership today! Your membership donation directly supports Bowman students through classroom and teacher support, curricular enhancement activities, and community building initiatives.
---
Girls Who Code Club at Bowman is for 3rd-5th grade girls and non-binary students. The focus on this club will be to learn about computer science and the role women have played in this field.
October – November AND April – May: Every Thursday morning at 8am unless there is no school
December – March: Approx. one Friday afternoon a month; 12:30-3pm lunch and club meeting.
Fill out this form to register. The limitations on the club are 20-25 students per Facilitator. If any caregiver would like to volunteer as a Facilitator, please indicate this on the form.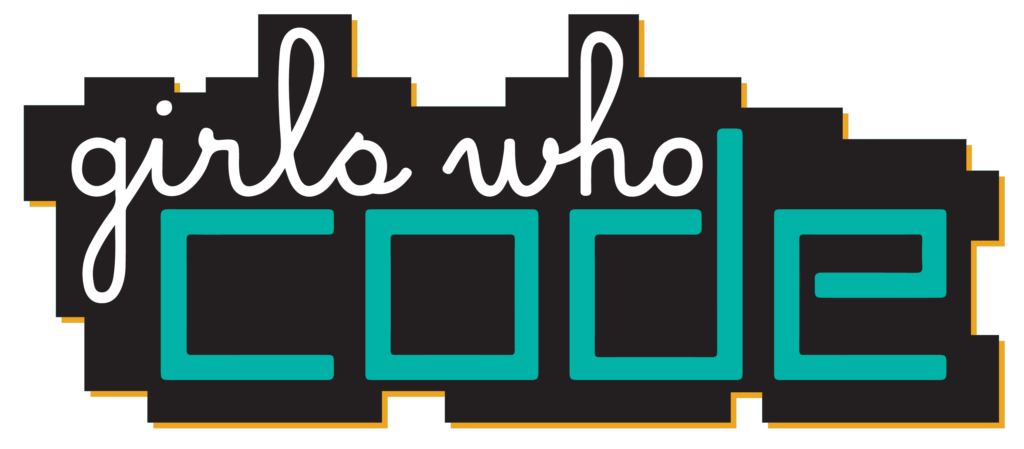 ---
Bowman School Directory
Please update your child(s) details with the Current Teacher's Name, so that your kid(s) name appears in the class roster in the directory. Starting this year, an active PTO Membership is required to access the school directory (we offer a $0 membership option).
Below are the steps on how to assign the teacher to your student(s):
Log in to Bowman PTO using this link: bowmanpto.membershiptoolkit.com.
If you are logging in for the first time, you will need to create an account in MTK. Use this document for detailed instructions on how to create an account and log in into MTK.
If you are a "Returning User" please login with your email id and password.
After logging in, you will be prompted to update your family contact information and student's information. Please click "here" on the Notice (as shown below).
Verify and update your family contact information and click on "Next step"
Confirm active student(s) details and assign them with the current teacher by selecting the teacher(s) name from the drop-down box against each of your kids in the list. Update the learning model and click "Save".
After you have updated your student/s details you can also provide your directory publish preference by clicking "Step 2: Directory publish preferences".
Once done, click the "Save" button.
Please email the Bowman Directory Administrator if you have any issues or questions.
---
Equity at LPS
Over the past several years, many educators in Lexington Public Schools have devoted to educating themselves about issues of equity in our schools and changed their practice to better prepare all learners to be active, productive members of our larger world. This portion the Equity at LPS website provides some opportunities for self-reflection and learning that might help us all to engage with one another in as productive and respectful a manner as possible. For community members, including students, these materials may provide a clearer understanding for the district's commitment to equity. Remember, we are all at different places in our understanding of identity and how it impacts learning, and we are all continuously learning!
Please note that many of these resources have not been explicitly vetted or endorsed by Lexington Public Schools. The materials here have been submitted by educators and community members; it is up to the individual to determine whether the resources is appropriate solely for self-reflection and learning or for use with students.
---
Open Volunteer Positions for 2023-2024!


















MEMBERSHIP TRACKER '23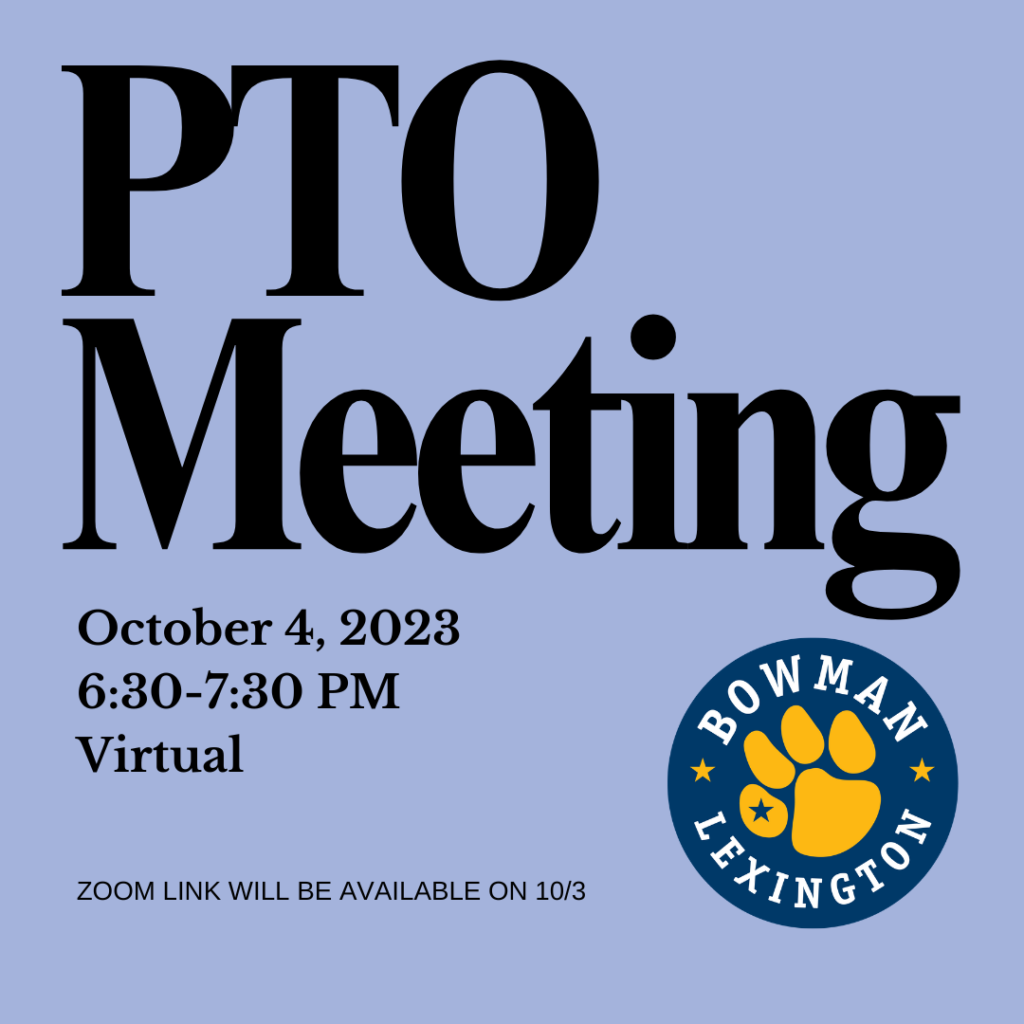 Help us reach our membership goal!
PTO CALENDAR
Bowman Spirit Wear Sale Ends
September 30, 2023

Bowman PTO Meeting (Virtual)
October 4, 2023 6:30 pm - 8:00 pm

LPS School Closed
October 9, 2023

Bowman Book Fair Begins!
October 20, 2023

Bowman Wicked Bagel Fundraiser
October 21, 2023 7:00 am - 2:00 pm


For every dozen bagels purchased, 50% will be donated back to Bowman PTO!
Bowman Family Craft Night
October 25, 2023 5:30 pm - 7:30 pm

Elementary Conferences- Early Dismissal @ 12:30pm
October 26, 2023

Elementary Conferences- Early Dismissal @ 12:30pm
October 27, 2023


Bowman Book Fair Ends
October 27, 2023

Bowman PTO Meeting (Virtual)
November 1, 2023 6:30 pm - 8:00 pm

ONLINE RESOURCES
Bowman Elementary School Website
Lexington Education Foundation
Peer Support Groups for LGBTQ+ Youth
Setting Student Dismissal Preferences