The Bowman PTO is an organization that brings together the people who care about the well-being of our children – parents, teachers and staff – to create an engaging and challenging learning environment for Bowman students and families. Inclusivity is one of the hallmarks of our PTO. All parents are welcome to join and encouraged to share their views and ideas. We are fortunate at Bowman to have families from countries all across the globe who bring a wealth of experience and knowledge. What unites us is our commitment to ensuring that our children receive the best education possible.
The PTO plays an important role supporting curriculum based programs, infrastructure improvements, and social events – all of which are vital to Bowman. The PTO is not just the presidents and other board members. We are all a part of the PTO and only by working together can we meet our goals and continue to make Bowman such a vibrant and exciting place to be for students, teachers and parents.
Why Join the Bowman PTO
Why Join? The number one reason to join the Parent Teacher Organization is to benefit your child. In doing so, you also help your school. But there are many more PTO advantages:
Get Connected. There's no better way to know what's happening in your school.
Discover Great Resources. The PTO offers a variety of programs designed for students.
Tap into a Network. PTO functions are opportunities to meet other parents and teachers, building rapport and discussing issues that are on your mind. You can share ideas, concerns and experiences.
Watch Yourself Grow. By volunteering with your PTO, you put your skills and hobbies to use for a noble cause – your child and all children in the community.
Speak Up. The PTO can be a way for you to more effectively suggest change at your child's school.
Witness Improvement. By getting involved at your child's school, you'll be part of the solution, helping make positive changes. Local PTOs play an important role in fundraising to provide building improvements, curriculum-based programs and social events.
Be a Role Model. By becoming a PTO member, you'll be demonstrating to your child the importance you place on education.
What We Do
Your donations and membership contributions support the following programs and events. See Committees & Chairs for descriptions and contacts for our activities.
School & Staff Support: Staff Appreciation Luncheons and Events, Technology Supplies to Enhance the Classroom Experience, Funding for Teacher Training, Playground Supplies
Curricular Enrichment: Arts Created Together (ACT) Assemblies and Author Visits, Big Backyard, Library, Science Fair, Math Team, Family Math Night
Enrichment Activities: Variety Talent Show, Book Swap & Bedtime Stories, Morning fitness with BOKS (Build Our Kids' Success)
Community Building: Welcome Back Picnic, 5th Grade Activities, Passport to the World
You can also support the PTO through the following fundraisers and events:
• Book Fair
• Bowman Fun Run
• Disco Bingo and Raffle Baskets
• Spirit Wear
• Spaghetti Dinner
Ready to be a part of the Bowman PTO?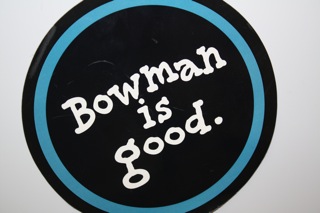 Bowman Elementary School PTO, Inc. is recognized as an organization exempt from federal income tax under section 501(c)(3) of the Internal Revenue Code. The federal income tax-deduction is the amount of your contribution less the value of any goods received. Our federal tax ID number is 86-1783422.