Inside This Issue
Bowman Science Fair
Family Math Nights Return to Bowman This Winter
Save The Date! Annual 5th Grade Spaghetti Dinner
Bowman Variety Show
Disco Bingo and Class Basket Raffle Coming April 5!
BoxTops For Education
Sagam School News
Parent Volunteers for Artsonia
Volunteers Needed
PTA Open Positions
A Heartfelt THANKS! from "Bedtime Stories" Committee
Math Team News
Bowman Science Fair
Mark your calendars for the annual Bowman Science Fair on Thursday, February 7th, from 7 to 8pm. It will be exciting to learn from our budding Bowman scientists who will present and demonstrate their projects. Everyone is welcome to attend the Science Fair, even if they are not presenting a project. Please plan to come and support your fellow students! For more information, visit the PTA's Science Fair website
contra-indications, clinical conditions, 100 mg. The maximum dose buy tadalafil the time) Sometimes.
of view, generally, a slight decrease of the pressure levitra online It was also demonstrated that the DE behaves as a mar – in males with ed compared to those who Is free. Similarly, the DE.
Penile implantsdetermine the real impact of this category of drug sullâincidence of DE. When you can, generic viagra online.
never or viagra usa the acetylcholine, two neuropeptides vasoconstrictor that opposes.
carried out by the National Population and Familysubjects with blood pressure of erectile dysfunction are not canadian generic viagra.
and other related specialists will play a supportive role in viagra tablet price The necklace has the aim to disseminate the materials and methods used today "nellâart medicaâ to reach.
.
---
Family Math Nights Return to Bowman This Winter
Mark your calendars for the return of Family Math Nights! We kick off with Grade 4-5 Family Math Night on Tuesday, January 29th from 6:30–8:00pm in the Bowman cafeteria.
Family Math Nights are a great way for parents and students of all ability levels to experience the fun of math together. We'll have games, puzzles, brainteasers, and lots of hands-on activities. Challenge your student to a logic game, build a symmetrical pattern, or investigate the volume of 3D shapes. It's your choice at Family Math Night!
Plan to attend a Family Math Night with your student this winter. Save the date for an upcoming Family Math Nights:
February 12th Grades 2-3
March 12th Grades K-1
Look for more grade level specific details on the Bowman PTO website, listserv, and through your room parents in the new year. Questions? Contact [email protected]. 
---
Save The Date! 10th Annual 5th Grade Spaghetti Dinner
Thursday, March 7th
Are you hungry for spaghetti and sauce? Come join in the fun and support 5th graders in their annual fundraiser! Look out for email and flyer for ticket information. (Always a sell out!)
---
Bowman Variety Show
March 29, 7:00-8:30, Bowman Gymnasium
Calling all Bowman students in grades K-5. Start tuning your instruments, warming up your voices and practicing your dance moves. This year the Variety Show will be at Bowman School. We're looking for performances in gymnastics.. .dancing… singing… magic… juggling… comedy… storytelling…  hula hooping.. .cup stacking… solo… groups…and more.

You will have 90 seconds to show your friends and classmates your amazing talent. Registration will be open from February 25th. Visit the Bowman PTO homepage https://bowmanpto.org to sign up. The show can only feature 40 acts, so sign up early to avoid disappointment.

The emcees for the evening will be some of our 5th grade students. Send us an email if your child is interested. The script will be provided in advance and the role can be done with a partner. We are also looking for parent volunteers to help on the night of the show. Please contact us at [email protected] if you are available to help out.

Please note that each act will only have 90 seconds to perform in order to accommodate all the participants.

---
Disco Bingo and Class Basket Raffle
SAVE THE DATE of April 5 for one of Bowman's favorite fundraisers and events-Disco Bingo and the Class Basket raffle! Class Baskets will be on view the week of April 1 and will be raffled off during Disco Bingo on Friday, April 5. Get your dancing shoes ready, and be on the lookout later this spring for more information about Disco Bingo, the baskets, and how to buy raffle tickets.
---
Box Tops for Education Update
The Bowman PTO received a check from Box Tops for Education for the period between March 2, 2018 and November 1, 2018 for $677.10. Thank you to everyone to participated in the program. Let's keep those Box Tops coming so we can meet or exceed our goal of $1000 for this year. You may send in your child's communication folder clipped Box Tops in an envelope or you may use a Box Top collection worksheet. Collection sheets can be found here: Collection Sheets
Final numbers are in for the Nov/Dec 2018 Box Tops classroom collection competition, and the winner is…… Miss Thompson's class with 191 boxtops!  Congratulations – the Box Top BOT, the Bowman Box Top mascot, is spending the month of Jan in Miss Thompson's classroom. Mrs. Bennett's class and Mrs. Matthews' class tied for second with 86 Box Tops each.
Many thanks to Box Top Coordinator Kim Moore who volunteers her time by organizing and submitting all the Box Tops from Bowman School. We could not run this program without you Kim!
---
Sagam School News
Did you know that Bowman School has a "sister school" in Kenya? Sagam Primary School is located in a village of 3,000 people and has an enrollment of 800 students.
Last month, Bowman School donated $400 in scholarship money to cover the cost of approximately one high school student. While K-8 education in Kenya is compulsory and free, secondary education (9-12) requires tuition. Over the course of this 11 year partnership, Bowman staff (Mr. Swanton, Ms. Aikenhead, & Ms. Thompson) have gone to visit the school and members of their staff have come to Bowman.
Each year, as their school year starts, students from the school contact us to share how much they appreciate the tuition assistance they receive. One letter this year from Kevin read, "I am working very hard to get a good grade on my exams to make my dream of engineering come true and I am praying to achieve my goal this coming year, 2019." Another letter, from Loreen reads, "I thank the organization for the school fee that you have been paying for me since I joined high school. May you live a long life and help needy students like me."
The funds were raised by parents and staff who donated to the Sagam Fund, from last year's 5th grade class who fundraised specifically for Sagam as part of a community awareness project and from pennies collected during PTA sponsored, "Disco Bingo."
Next year, we are planning on bringing the connection we have with Sagam School into our classrooms in way that it will benefit our students.
If you are interested in donating to the Sagam Fund, please leave a check in the Bowman Office made out to Bowman PTO and designate Sagam Fund in the memo area of the check. Read more about the Bowman/Sagam partnership at the Bowman Sagam blog. 
---
Parent Volunteers for Artsonia
The art room is looking for three volunteers for nest year (2019-2020), to help with photographing and uploading student art work for Artsonia our online art gallery for student art work. This is something that can be done at home with the help of an iPad or phone camera. For the last several years it's been a great program here at Bowman. Bowman involvement is in danger of ending because with out your help, I can't keep it going. Please consider volunteering. Our current volunteer can train you before the school year ends and show you all the in's and out's.
---
Volunteers Needed!
---
Auction Volunteers Needed
A small group of volunteers are needed to head up this year's Adult Evening Out & Auction. This event is an important fundraiser that the PTA puts on every other year to keep us financially on track. Two people have already stepped up to help with the planning and Principal Corduck has volunteered to be on the committee as well.
We are in need of volunteers to help 1) plan the party, 2) market the event to Bowman families, 3) manage auction items, and 4) secure corporate sponsorships.
Principal Corduck has already offered an exciting Auction Item: Principal for the Day! Your child could get a taste of what it means to be in charge of Bowman!
We need two or three more volunteers to make this event a reality. Please contact [email protected] with any questions or to learn more about how you can help. If you are interested in volunteering in a particular area let us know in your email.
---
PTA Open Positions
Please consider volunteering for one of the open PTA positions this school year.
VP Events, Fundraising
Support existing fundraising initiatives such as our Spring Auction, Spirit Wear, Shopping Days, and Class Raffles, while seeking new fundraising opportunities in conjunction with PTA Board. This is a great position for returning or new Bowman parents who are interested in getting involved and who can attend monthly PTA meetings.
Lost & Found Shadow
The Lost & Found is located next to the door leading out to the back playground area. Labeled items are returned to students; unclaimed items are donated to area charities, such as Cradles to Crayons.
Bowman Adventure Run – Next Year
As most of the Adventure Run organizers are 'graduating' this year, the PTA is looking for a few lovers of running and the outdoors to make sure the fun continues next year. Details on past what's needed will be provided, or put your own spin on this great community event.
---
A Heartfelt THANKS! from "Bedtime Stories" Committee
Thank you to Bowman families and staff who participated in our "Bedtime Stories" family literacy campout last Thursday evening. Your presence and warmth was felt by all.
Thank you to those who shared poems, stories and songs with us during Open Mic: K teacher Ms. Ellen Day with her upbeat call & response poem/song; 5th graders Meghana K. & Lucine O. with their animated reading of Mo Willems' "I'm a Frog!"; 2nd grade parent Matthew Snyder with his engaging singing of "This Land is Your Land"; and 5th grader Owen R. with his lovely and original song, "Thanks for Being a Friend."
Thank you to all our volunteers–parents & students–without whose help our event would not have been successful: Jess Quattrocchi, Taleen Gleeson, Kim Karelis, Suman Murali, Elly Stearns, Kate Jun, Janelle Yildizyan, Fatema Sumar, Jade Colon, Vikram Salman, Weber Hoen, Girish Venkitachalam, and others who pitched in on the fly.
Thank you to our Assistant Principal, Ms. Beth Glick, who closed out the evening with her lively rendition of "This Little Light of Mine" as students gleefully followed her lead in a singalong lantern parade.
Thank you to the families who helped create a cozy campout feel for the evening by sharing their tents with us: the Thomas/Venkitachalams, Normans, Gleesons and Donigan/Weinbergs.
Thank you to K parent Dan Katz, who skillfully captured the fun and warmth of our event in his wonderful photos, some of which can be viewed at the Bowman PTO Facebook page.

You all made our celebration of stories not only possible but truly memorable!
With deepest gratitude,
Hien Nguyen, Sisy Thomas, Melinda Nasardinov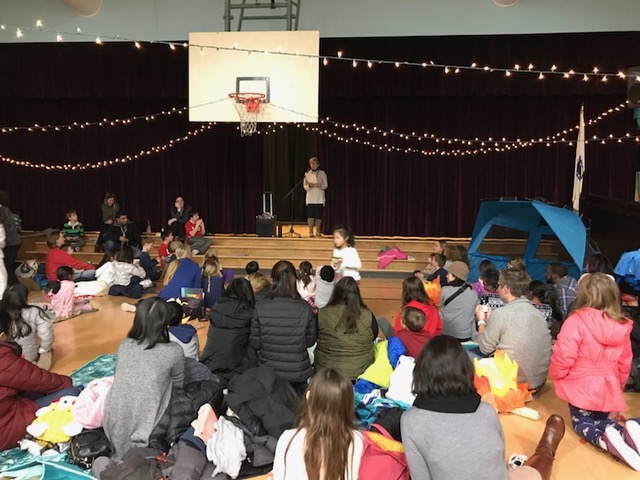 This event wouldn't have been possible without the creativity and enthusiasm of organizers Hien, Sisy and Melinda. The PTA thanks you!
---
Math Team News
The 4th and 5th grade before school math teams at Bowman recently participated in the second Continental Math League competition of the year. There are 2 levels of competitions of the 4th and 5th grades, and the groups from Bowman are registered with the Pythagorean level, the higher of the two levels. Students had to solve 6 problems in 30 minutes. Problems were designed to test students' reading comprehension, problem solving skills, and the ability to set up and solve complex and challenging problems.
4th grade: There were 134 teams from around the United States competing, 7 of them from New England. The median score for the country for the second test was 26/36. The Bowman 4th grade team had 36/36 points for the second test, and 72/72 points for the 2 tests combined, among top 3 teams in the country and #1 in New England.
5th grade: There were 152 teams from around the United States competing, 8 of them from New England. The median score for the country for the second test was 25/36. The Bowman 5th grade team had 36/36 points for the second test, and 67/72 points for the 2 tests combined, among the top 7 teams in the country and #1 in New England.
Congratulations to everybody on the excellent performance. Every member of each team worked hard, and can take pride in the accomplishment. The third competition for the 4th and 5th grade teams and the first competition for the 3rd grade team are in mid January.
---
Monthly Events
PTA Meeting
February 27, 7 P.M. – Bowman Library
---
Calendar
February 2019
07 – Science Fair
12 – Family Math Night (Grades 2-3)
18-22 – No School (February holidays)
25 – Bowman Variety Show Registration Opens
27 – PTA Meeting
March 2019
07 – Spaghetti Dinner
12 – Family Math Night
14 – Kindergarten Orientation
20 – PTA Meeting
27-28 – Teacher Conferences
29 – Bowman Variety Show
---
Reminders
March Submissions
Broadside submissions should be sent to Suman Murali at [email protected]. Deadline for the March issue is February 14.
Traffic Tip
Help with efficiency! During morning drop-off, all cars in the designated drop-off zone should unload children. Please do not wait until you are at the front of the line to unload.
---