Events
News
Thank You!
Events
From Bowman PTO Presidents
This is the FIRST year as Bowman PTO (Parent Teacher Organization) and we are on track to achieving a financially break-even year with YOUR continued support! Previously, we were a PTA (Parent Teacher Association) and had to pay up to $2000 in National PTA dues per year. The Bowman PTO/PTA has historically run at a budget deficit relying on "catch-up" fundraising every 2-3 years.
Since we returned to full in person learning and are now having events in person, the Bowman PTO has supported the school in new ways this year:
Lunch bins for K-2 students
Bowman Mentorship program (restarted this school year)
2nd grade pollinator garden
Arts Created Together (ACT) concert at school and NEW family concert June 6
Additional Staff Appreciation enhancements and Joy in Learning celebrations
Support the 7 Habits of Happy Kids program through books and other materials
Upcoming surprises for Field Day June 9
This is all in addition to direct to school/classroom reimbursements for every teacher, playground supplies, grade-level field trips, staff appreciation, curriculum support, and community events. 90% of all money raised directly goes back into the Bowman school building for students, teachers, and staff (much higher than the average 501(c)(3) organization and neighboring PTO/As).
As we close out our 2021-2022 academic year, we have our last push of FUNdraisers and events to finish strong. Please help us achieve our goals for this academic year – one we will all surely remember!
In addition, as we prepare for 2022-2023, we need to fill the following critical executive board and volunteer positions:
Room Helper Coordinators (2 positions open – needed before next school year)
Book Fair Coordinators (2 or more positions open – needed before next school year)
Green Team – Lunch Volunteer Coordinator (1 or more positions open – needed before next school year)
Directory Team (2 or more positions open – needed before next school year)
Big Backyard Volunteer Coordinator – K/1st Grade (1 position open)
Vice President, School Support – LHS Building Project Liaison (2 year term – 2022-2023 & 2023-2024) — Very important role for the next 2 academic years
Vice President, Community (2 year term 2022-2023 & 2023-2024)
Vice President, Curriculum (1 year term 2022-2023)
See our Bowman PTO Open Volunteer Positions for more details and please email us at [email protected] if you are interested.
Thank you,
Brandy Hartford, Valerie Machinist, and Anne Norman
Bowman PTO Co-Presidents
Bowman Field Day Spirit Wear Sale May 2 – May 13
Don't miss out on a limited run of special Bowman Field Day gear! The store is open now, and closes May 13, 11:59pm. All gear will be delivered in time for Field Day on June 9!
Order online at https://bowman2022.itemorder.com
Bowman Science Fair May 11-12
We are looking forward to seeing the Bowman community at the Bowman PTO Science Fair on May 11 and 12. All Bowman students and families are welcome to visit the Science Fair and view their classmates' interesting projects. We have over 120 projects registered and over 180 Bowman students participating!
The Science Fair Team will email all parents/guardians of students scientists information such as project number and table location on Monday, May 9th.

Science Fair Dates & Times
Wed, May 11th, Grades 3-5, from 7-8:15pm
Thurs, May 12th, Grades k-2, from 7-8:15pm

On the night of the Science Fair, the doors will open at 6:45 pm. Please enter through Bowman's main entrance and walk to your designated table location in the gym or cafeteria to set up your student scientist's project.

Any questions? Visit FAQs at: https://bowmanpto.org/committees/curriculum-enrichment/bowman-science-fair/ or email the Science Fair team: sciencefair@bowmanpto.org
Bertucci's Restaurant Fundraiser May 18th!
Mark your calendars for the Bertucci's Fundraiser on May 18th to support our school!
Meet your friends at the restaurant or just eat what they are all eating!
Enjoy your Bertucci's favorites with family and friends. And don't forget to tell all your relatives (irrespective of location) about the Fundraiser.
Use the code when you order: 191-419-711
Bertucci's will donate 15% of the overall proceeds back to the PTO
Valid on the day on to-go, delivery, catering and dine-in orders at all Bertucci's locations!
Please email [email protected] with any questions.
Bowman Kids Fun Run May 28 – June 8
Sharpen Your Saw (Habit 7) during the 2nd annual Bowman Fun Run! All students accumulate run/walk minutes during the Fun Run from May 28 – June 8 for fun prizes. 100 Mile Club members will also have a special recognition opportunity along with the Fun Run!
For any families donating $150, we will display a 12" x 18" yard sign in front of Bowman June 6 – 10 to show a "school spirit" message. Support and cheer on your student(s) or class(es) with a design of your choosing! See your child's Fun Run page for details.
Please email [email protected] with any questions.
NEWS
Maths Team News
The Bowman Math Teams meet weekly before school. The 3rd graders had their third and final competition and the 4th and 5th graders had their fifth and final competitions in March. Students were given 6 problems and had 30 minutes to solve them independently. Each correct answer was worth 1 point and the top 6 scores became the team's score.
3rd grade: Bowman's team scored 32/36 on the third test for a total across three tests of 91/108. Congratulations to Charles F. and Mark D. who each had a perfect score on test #3.
4th grade: Bowman's team scored 36/36 on the fifth test for a total across five tests of 180/180, which should mean they are tied for the top spot in the country. Congratulations to Chloe L., Chris C., Dhruv I., Gus B-G, Kamsi A., Louis L., Luc G., Max Z., Navya S., Olivia I., Renee M., Sanav B., Shlok M., Simon B-G, Sriman D., Vlad B., and Yonis G. who each had a perfect score on test #5.
5th grade: Bowman's team scored 36/36 on the fifth test for a total across five tests of 168/180. Congratulations to Ada W., Akshay R., Barrett F., Derek Y., Joey W., and Vaani M. who each had a perfect score on test #5.
Excellent job to all three teams! Every member of the team worked hard and can take pride in this accomplishment. We will have our class celebrations in April and May and have one final update next month!
Thank You
Disco Bingo Night & Class Basket Raffle Thanks!
Thank you to all of our students, families, teachers, and staff for coming to our flagship event – the Disco Bingo Night & Class Basket Raffle!
Thank you to everyone who ordered tickets! The Class Basket Raffle made over $5,600. This important fundraiser will help pay for teacher and staff reimbursements, grade level field trips, teacher appreciation activities, and more this year! Thank you to Brody Moore and Alexandra Chernozhukov for your excellent bingo calling. Thank you to Principal Corduck, Vice Principal Edwin Francois, Chrissy Ashness, and Brenda Barnes for all your support; and to the Bowman Bear for your excellent dance moves! Thank you to the room helpers who put together the fun and creative baskets from every classroom! An extra special thank you to all of the parent volunteers for reinventing the event this year – Tracey Dawson, Brandy Hartford, Naveen Chhabra and Lakshmi Ramanath – we appreciate all the work you put into making it a huge success!
Big Map Night Thanks!
Thank you to Jackie Anderson for organizing Big Map Night and bringing it back in person this year after a two year hiatus. We hope all families enjoyed taking a walk on the continent of Asia!
Movie Night Thanks!
Thank you to the 5th grade activities team for organizing such a wonderful event. Thanks to all of the families who came out in support of 5th grade activities.
Teacher / Staff Appreciation Week Thanks!
Thank you to our wonderful Bowman Teachers and Staff for everything you do for us each and every day. We hope you had a wonderful Teacher / Staff Appreciation Week!
Thank you to the Bowman community who purchase Bowman PTO memberships and participate in fundraising which funds many of our Staff Appreciation activities. Thanks to all of the volunteers and families who contributed to our celebration. Special shout out to our Bowman PTO Staff Appreciation Team, Stephanie Roberts and Janice Patel, who planned and led our week of appreciation events!
View our Facebook album: https://www.facebook.com/media/set/?set=a.2486388738160078&type=3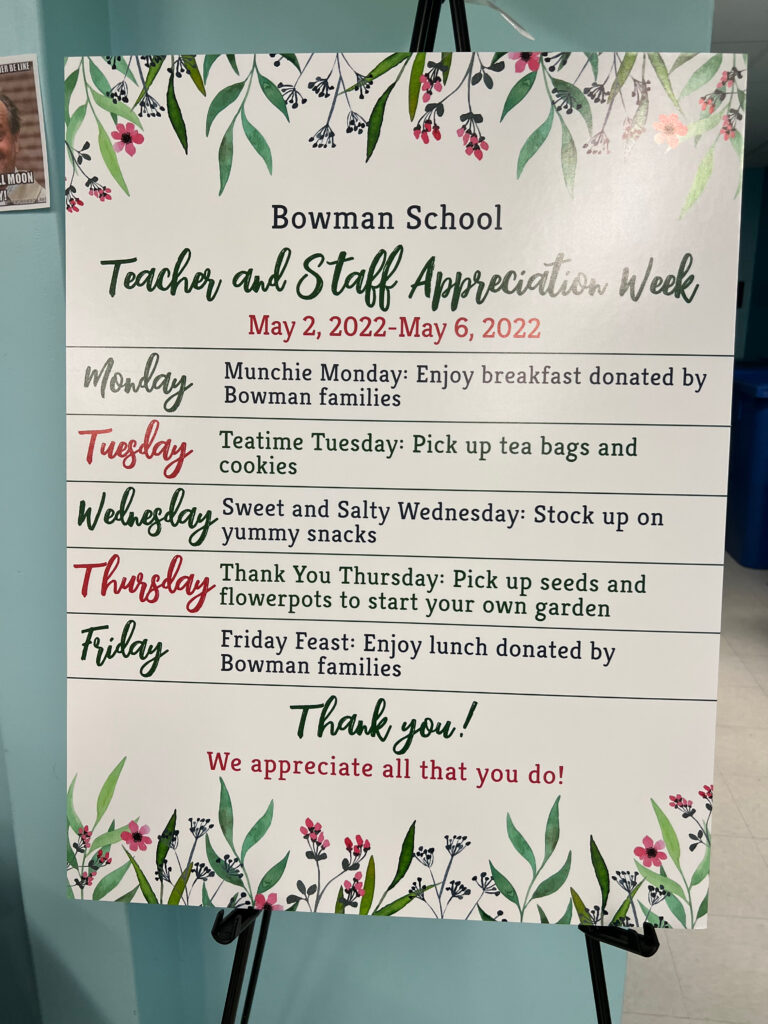 May Submissions
Broadside submissions should be sent to Monika Manocha at [email protected].
The deadline for the June issue is May 22nd.